Kalokenti studios are situated in the center of Aegina town, just a five-minute walk from the central port and a stone's throw away from the Hill of Kolona (an archeological site inhabited from prehistoric times through the classical period. It includes a museum.), which is undoubtedly one of the major sites of historical importance on the island.

Their convenient location is underlined by their proximity to bus and taxi stations, as well as the island's commercial centre.

When staying in Kalokenti studios, it is easy to stroll in the small streets of Aegina town and discover the treasures of its cultural heritage: the neoclassical buildings, the mansions built during the period of Governor Ioannis Kapodistrias, the historical Cathedral (where Ioannis Kapodistrias was ushered), Markellos Tower, the historical and forklore museum e.t.c.

You can also go shopping, since the shopping centre of Aegina is no further than 300 metres and it offers you a wide range of products and services. You can explore the banks of the fish market and these of the vegetable boats (fishing boats used for selling groceries) or just relax in the friendly atmosphere of the cafés, bars, ouzeries and restaurants which are in front of the port and in the beautiful back streets.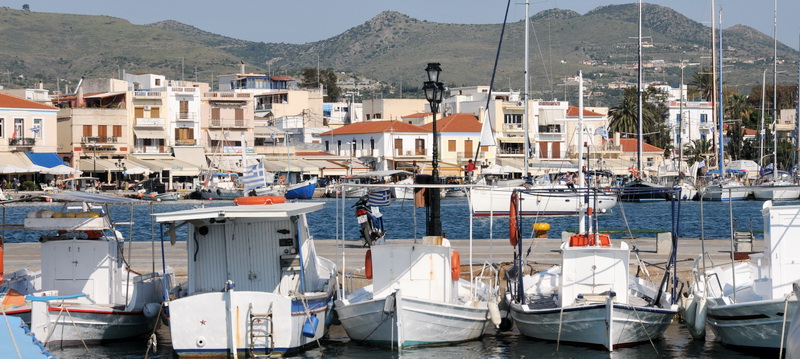 You can also enjoy your swim in the popular beaches of Avra and Kolona in just a few minutes and without needing a means of transport. Every destination is just a pleasant stroll.

Everything is close. Our rates for a double room range from 50 to 75 euros per night, depending on the period of accommodation. There are special rates for more than three nights. We offer our services all year round.

Contact us!
We constantly care to offer you an unforgettable stay!
Kalokenti studios' services are adjusted to their visitors' needs, giving a particular care to cleanliness. All rooms have their own balcony and bathroom with shower and are equipped with:

Air-condition
equipped kitchen (electrical appliances, dishware, e.t.c.)
hairdryer
flat screen TV
free WIFI access
daily cleaning services
electric iron (at your request)

Extra amenities:

Free parking space
We can arrange for a car, scooter, or even a horse-drawn carriage rent. We can book for you a seat in the Panoramic guided bus tour of the island or a ticket for the small boat going to the pine tree-covered islands of Agistri and Moni (departure from Perdika).
We can arrange for beauty services (manicure, pedicure, hair-care services, waxing, massage e.t.c) and healthcare services (physiotherapy, nephrological centre).
A crib/ baby bed (at your request).